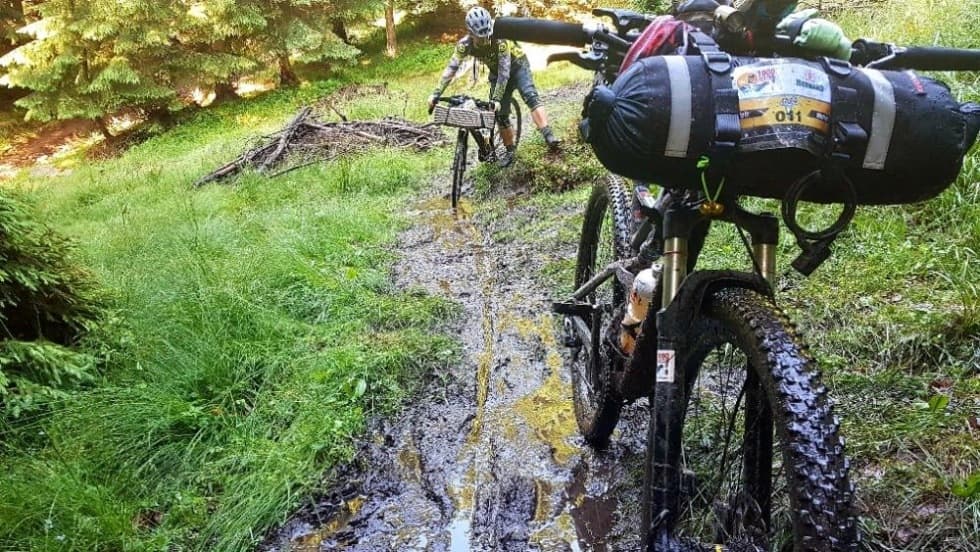 In bikepacking races, the rule is that competitors take all the necessary equipment with them. This represents a fairly decent amount of stuff and a significant amount of weight that you'll put on yourself or the bike. At Míly, you will meet so-called grammarians, racers who carry the absolute minimum of things and have a well-thought-out strategy for surviving the race with this minimum. The weight of their equipment is around 5 - 7 kg. A standard competitor who does not want to risk so much or needs more comfort can have a load between 10 - 20 kg. Which approach you take is up to you and your tactics.
There are different opinions as to whether it is better to have everything in the panniers on the bike or rather on the back in a backpack. Bike bags are chosen by those who want to relieve their back and buttocks and expect to ride a "heavy" bike. A backpack on the back is chosen by those who want to have a light bike, are used to a backpack and perhaps appreciate the possibility of quickly adding purchased groceries to the backpack.
In any case, we recommend purchasing specialized bikepacking bags or a backpack optimized for cycling at Míla.
The basic rules apply to the selection of bags:
you want to have everything quickly at hand during the race,
you don't want to lose anything while driving on uneven terrain,
you need the waterproof version.
To choose a backpack
as easy as possible
waterproof,
with vented back,
suitable straps for cycling.